<<< back
< prev
next >
Los Angeles
Description: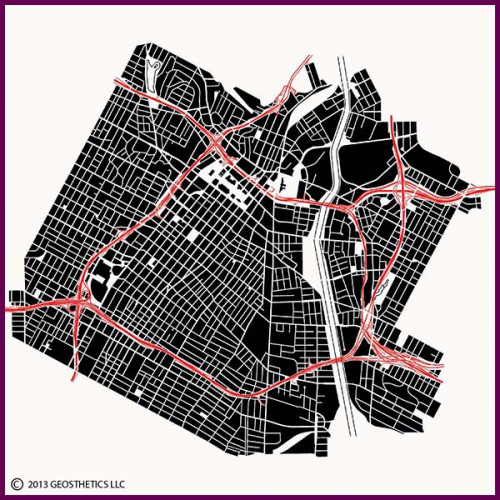 Downtown Los Angeles, shown here, has a quirky street pattern for a western U.S. city. Most western U.S. cities have structured, uniform grids that were used for the town's initial layout and subsequent early additions to the city. However, LA's central area has a combination of loose grids and structured grids. This stems from the city's Spanish origins.
Los Angeles was originally a Spanish settlement from the late 1700's, located on the northern edge of the current downtown area, just north of the Hollywood freeway and adjacent to Union Station. This town site was located close to the Los Angeles River where it emerges from the rugged hills to the north. The river provided water for the settlement and its surrounding farm lands to the south and east. These farmlands were divided into a loose patchwork of fields, without any pre-planned form or surveys. This loose farm field layout accounts for the loose grid of streets that were developed in the central and eastern portions of the downtown area. The western portion of downtown, which today contains the city's tallest buildings, was a pre-planned addition to the city, using a uniform grid for the subdivision of blocks and lots, centered upon Pershing Square.
Los Angeles began planning its renowned freeway system in the 1930's, with the first freeway, the Arroyo Seco, completed in 1940 and connecting downtown with Pasadena to the northeast. Construction of the larger system began in earnest in the 1950's, and the city's freeways became integrated with its identity as no other city. Downtown Los Angeles is encircled by a series of renowned freeways, including the Hollywood Freeway on the north, the Harbor Freeway on the west, the Santa Monica Freeway on the south, and the Santa Ana and Golden State Freeways on the east.
Los Angeles' famed Civic Center is a collection of public buildings constructed across the 20th Century on several blocks in the northern section of downtown, focused upon a multi-block series of public open spaces. The first building of this group is the iconic City Hall, completed in 1928 and located at the east end of the Civic Center. These are shown in the image just south of the Hollywood Freeway/Harbor Freeway interchange.
Los Angeles opened its large convention center in 1971 adjacent to the Harbor Freeway/Santa Monica Freeway interchange. This complex was significantly expanded to the south in 1993, and the Staples Center arena was opened in 1999. The LA Live entertainment complex, including the Nokia Theater, was added immediately north of the convention center in the early 2000's.
Merchandise: