<<< back
< prev
next >
Miami
Description: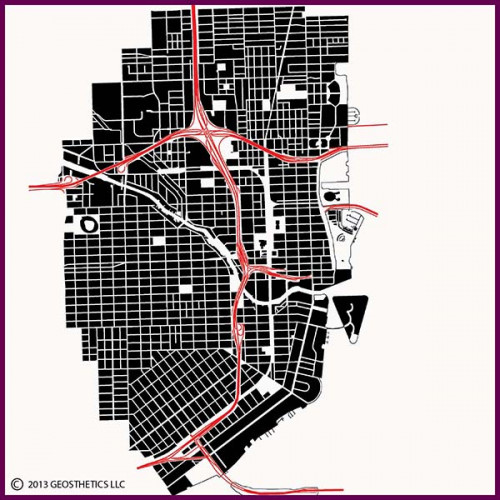 Miami is the focal center of the largest metropolitan area in Florida, which stretches for 120 miles along the southeast coast of the state. Incorporated in 1896 where the Miami River empties into Biscayne Bay, Miami has grown significantly to become one of America's primary business centers, with strong economic ties to the Caribbean and Latin America making it the leader in American international banking. It is the world's largest cruise passenger port, is one of the nation's busiest freight ports, and acts as one of the world's top tourist cities, renowned for its marvelous beaches, cuisine, fashion, and nightlife.
This image shows central Miami, with downtown facing Biscayne Bay to the east, sitting on the north bank of the Miami River and bounded on the west by Interstate 95. The river, which cuts a diagonal path across the city's cardinal grid, is a major navigation channel for the industries that line its banks. The streets that run across the river have bascule bridges that open for boats traveling the river. To the south of the river is the Brickell area, home to the city's financial center and upscale residential areas. On the west side of Downtown are the Miami-Dade County Courthouse, the Miami Cultural Plaza, the Clark Government Center, and the Federal Courthouse.
Also facing the bay downtown is Bayfront Park, which was completed in 1925 and today contains parkland, amphitheaters, fountains, sculpture, a marina, and the Bayfront Marketplace. To the north of Bayfront Park is American Airlines Arena, and north of the arena is Museum Park. The Port of Miami sits upon the man-made Dodge Island (not shown here) in the center of the bay and is accessed by Port Boulevard, shown adjacent to the American Airlines Arena. Across the bay lies Miami Beach, which is connected by the McArthur and Venetian Causeways located north of the arena. Those causeways also connect with nine residential islands, each man-made and sitting within Biscayne Bay. The Rickenbacker Causeway at the south edge of this image leads to Virginia Key and Key Biscayne, both of which contain sizable public parks and beaches. At the west edge of the image is the new Miami Ballpark, which sits on the site of the former Orange Bowl Stadium just south of Dolphin Expressway.
Merchandise: