<<< back
< prev
next >
New York City
Description: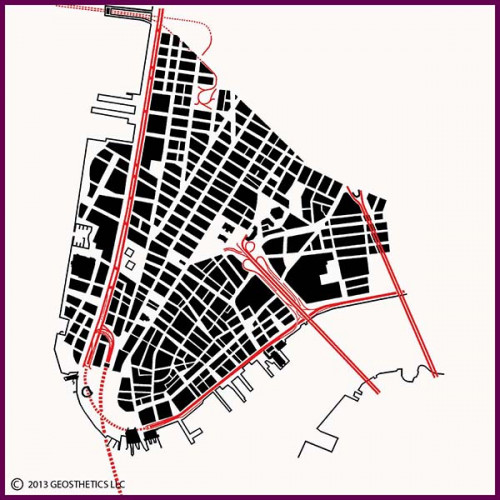 New York City is world renowned, but had very simple beginnings. The original settlement was a Dutch fur trading post, started in 1614. The settlement grew, and was named New Amsterdam in 1625. The Dutch famously purchased the island of Manhattan from the Native Americans in 1626.
New Amsterdam formed as a fan-shaped pattern of streets, forming around the original shoreline at the southern tip of Manhattan. This pattern is the basis of today's downtown/Financial District. As the city, which became controlled by the British in 1664, grew northward, development tended to utilize typically rectangular blocks and parallel streets, with a central spine of blocks following Broadway northeast on the middle of the island, another series of blocks following the Hudson River to the west, and a third series of blocks following the East River.
As the city grew, landfill was also used to increase developable land. The downtown blocks along the East River, south of the Brooklyn Bridge and east of Pearl Street, were filled into the East River. Along the Hudson River, most blocks west of Greenwich Street consist of landfill. The latest land fill project is Battery Park City, which is located west of the West Side Highway. This site was initially created in the 1960's as a location to place the original excavations from the massive World Trade Center site, and has become a successful residential and commercial district.
At the center of this image is City Hall Park. The namesake City Hall is located in the middle of the park, and the historic Tweed Courthouse is to the north. Northeast of this park is the Civic Center, a collection of prominent public buildings that are focused around Foley Square, which was the location of the Collect Pond, an early freshwater source for the city.
Brooklyn Bridge begins at City Hall, rising southeast over the East River to Downtown Brooklyn. The Manhattan Bridge is east of the Brooklyn Bridge, connecting with Canal Street at the north edge of the image. The Holland Tunnel connects Canal Street with New Jersey to the west.
The southern tip of Manhattan is the site of Battery Park, named for the protective artillery battery that was once located there. Two tunnels have been built beneath the Battery. The Battery Park Tunnel connects the West Side Highway with the East River Drive, while the Brooklyn Battery Tunnel Connects Manhattan with Brooklyn. At the northeast corner of the Battery is the triangular-shaped Bowling Green, which marks the beginning of Broadway's northward march along the length of Manhattan.
On the west edge of downtown, adjacent to the West Side Highway, is the World Trade Center site, whose memorial will feature two reflecting pools matching the footprints of the Twin Towers.
Merchandise: