<<< back
< prev
next >
San Francisco
Description: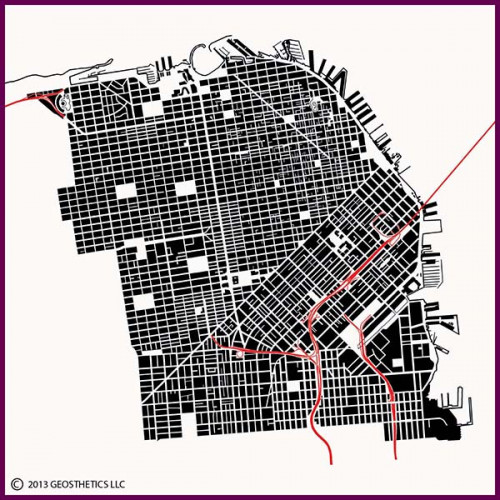 San Francisco is one of America's most iconic cities, its white buildings gliding upon the hills and valleys of the beautiful San Francisco Peninsula. The peninsula is surrounded by the Pacific Ocean to the west, and San Francisco bay to the north and east, both of which are joined by the Golden Gate strait.
The city was founded in 1835 as a Spanish settlement named Yerba Buena, on an inlet bay of the same name on the west bank of San Francisco Bay. This inlet bay spanned from the southern end of Columbus Avenue (the diagonal street in the upper right portion of the image) to the Bay Bridge, which is shown in the image heading northeast across the bay. The settlement was centered upon Portsmouth Square, which is shown one block west of the southern end of Columbus Avenue. Market Street, which runs southwest from the bay front, was laid out around 1847 after the Mexican-American War, at the end of which the settlement was renamed San Francisco. Market Street is the dividing line between the original street grid to the north and the later street grid south of and parallel to Market Street, and became the city's primary thoroughfare. Yerba Buena bay was filled in as San Francisco grew rapidly after the 1848 discovery of gold, and this area became the city's financial district in the 20th Century.
The city's original street grid was extended in all directions without regard to the hilly terrain. This layout has given San Francisco its unique characteristic, with steep streets running up and down the hills, and sweeping vistas. The steep streets led to the development of the city's famed cable car network, begun in 1873, and allowed the hilltops to become prime real estate by the late 1800's.
The City, after the destruction of the 1906 earthquake, celebrated its rebirth with the Panama-Pacific Exposition in 1915. A remaining icon of this fair is the Palace of Fine Arts, which is shown on its lagoon in the top left corner of the image. The image spans from the Marina District at top left, The Castro District at the southwest, the Mission District and Potrero Hill on the south, and North Beach District at the top right.
Merchandise: