<<< back
< prev
next >
Boston
Description: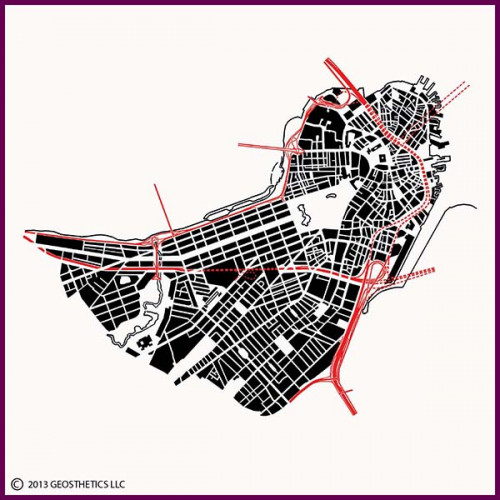 This image of central Boston shows its intriguing, some might say crazed, street pattern. However, Boston is a fascinating amalgam of urban form typologies that developed over an extensive period of time.
For reference, Boston Harbor and the Atlantic lie to the east (right) of the upper part of the image, and the Charles River runs along the north (top) edge of this image.
The original colonial street patterns of Boston are the loosely-formed web of streets in the north portion of the image. This is the downtown area, and is the heart of historic Boston. This street pattern formed organically (unplanned) during the mid-to-late 1600's and early 1700's, with streets generally running perpendicular from the historic, undulating waterfront of the original Shawmut Peninsula, with cross streets tying these streets together into a loose, dynamic web. The open, wedge-shaped Common is just west of downtown, originally purchased and set aside by the early colonists for open space and pastureland for the citizens' livestock. The original peninsula was much smaller than the land area shown here. As Boston grew, the city filled in both the harbor and the Charles River estuary to gain more developable land. Each portion of land that was filled was subdivided in its own way, adding to the richness of the patterning.
Probably the largest and most identifiable land-fill area is the Back Bay, which stretches along the south bank of the Charles River. This neighborhood, developed in the late 1800's, consists of relatively uniform rectangular blocks centered upon Commonwealth Avenue, the broad parkway which extends southwestward from the Public Garden. The rectangular Public Garden was established in the 1850's adjacent to the Common. An additional part of this landfill included the development of the Back Bay Fens, which are the parklands on either side of the meandering stream at the bottom left portion of this image.
Boston's parkways and freeways are an interesting overlay to the street patterns. Storrow Drive is an automobile parkway that runs along the Charles River. The Massachusetts Turnpike (Interstate 90) runs east-west across this image, built in the early 1960's parallel to railroad tracks that were established in the 1800's. The winding, north-south freeway is Interstate 93, which was originally constructed in the 1950's. The portion winding through downtown was originally built as a mostly elevated freeway, but was rebuilt over a 10-year period around the Millennium as an underground freeway with street level parkland, part of the famous Boston Central Artery/Tunnel "Big Dig" project. This project included an eastward tunnel extension of the Massachusetts Turnpike to Logan International Airport, which is located across the harbor east of downtown.
Merchandise: