<<< back
< prev
next >
Chicago
Description: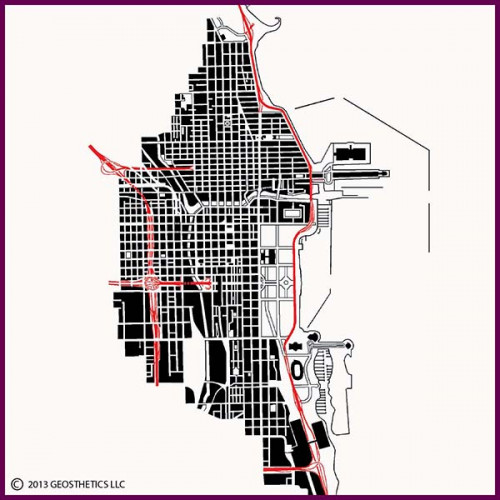 Chicago is a fascinating, dynamic city located on the west shoreline near the southern end of Lake Michigan, where the Chicago River meets the lake. The people of this City have always had big aspirations, and this is evident in this image of the city.
The city was founded on the east branch of the Chicago River, just west of where the river meets Lake Michigan, as a simple grid of streets. This simple layout was extended outward, with the grid becoming the predominant structure of the city. However, in addition to this simple form, the citizens envisioned something special for its lakefront. Unlike other cities, they set aside the lakefront for parkland. The first Lakefront Park, Grant Park, is the open area along the lakefront in the center of this image, and developed as a landfill extension from the original shoreline, starting after the 1871 Great Fire and continuing until the end of the 19th Century. This park, at just over 1 mile in length and around four-tenths of a mile wide, establishes a glorious formal garden as the foreground to the city's world-famous skyline, and is the center point for the city's approximately 18 miles of mostly continuous parkland and lakefront pathways.
In addition to Grant Park, the city created Northerly Island in the early 1920's, shown on the lower right portion of the image. This site was the location for a portion of the Century of Progress World's Fair of 1933-34, was the site of an airport from the late 1940's until 2003, and today is a nature center park and concert venue. This land shelters Burnham Harbor, a large yacht and pleasure boat harbor.
Navy Pier, built in 1915 and projecting 3,000 feet into the lake just north of the Chicago River, is today a popular public gathering place and entertainment venue. Just north of the pier is one of the city's massive water treatment plants, built in the 1960's. Breakwaters surround and protect Navy Pier and the Water Treatment Plant from the southerly lake currents. Additional breakwaters protect the Monroe Harbor adjacent to Grant Park, another large yacht and pleasure boat harbor.
The lakefront is also home to significant public institutions, including the Art Institute in Grant Park, the Field Museum and Shedd Aquarium at the south end of Monroe Harbor, and the Adler Planetarium at the north end of Northerly Island. Soldier Field lies west of Burnham Harbor. The sprawling McCormick Place Convention Center is at the south end of Burnham Harbor, spanning both sides of the famed Lake Shore Drive and covering numerous blocks inland.
Merchandise: