<<< back
< prev
next >
Dallas
Description: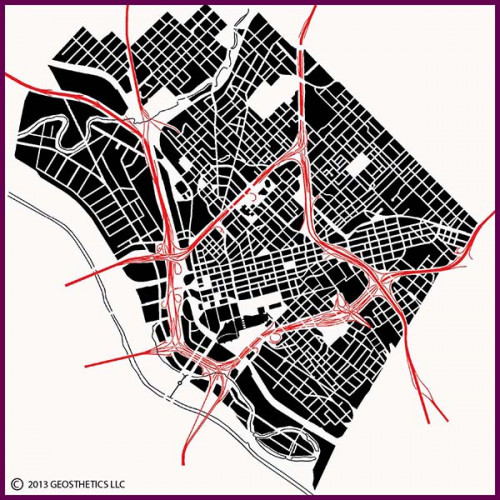 Dallas has a fascinating street pattern, with an interesting pedigree. The shifted street patterns stem from a variety of influences. Dallas was founded on the east bank of the meandering Trinity River, which generally flows from northwest to southeast. The general subdivision for the lands surrounding the original town site parallels the river's general path. However, the river at the town site ran closer to north/south, and the original town site grid aligned with that particular section of the river. Today's Dallas shows the influence of these two patterns.
In this image, downtown is centered upon the freeway loop in the lower center part of the map. The original town site is at the west end of downtown, and the streets to the east of the town site are an extension of the original grid, and run at a different angle from the general street pattern. The streets north and south of this grid extension, however, follow the original surrounding land subdivisions, consisting of a series of loose grids that are oriented at a severe angle to the cardinal directions, giving central Dallas its unique character.
The Trinity River, which was prone to flooding, was significantly modified in the early 1900's. A new water channel lined with levees was created to the west of the original riverbed, and is the river shown in this image. The old riverbed and floodplains were used for the path of the Stemmons Freeway, and were subdivided into industrial and warehouse lands, which today are the blocks shown between the current river and the freeway.
In the north portion of the image is Turtle Creek, which cuts a beautiful small valley into the prairie, and around which an upscale neighborhood developed.
Merchandise: