NOTE: All images in this blog post, unless noted otherwise, are taken from US Geological Survey 7.5' Quadrangles, latest available editions available at the time of posting, and color adjusted by me. All additions I have made to the images are noted with each applicable image. All aerial images are oriented with cardinal north at the top of the image.
PUBLIC SPACES
Many American towns contain public spaces that were integrated into their initial layouts. Others created public spaces within older areas as part of the City Beautiful, Urban Renewal, or New Urbanism movements. Some cities created public spaces adjacent to the initial town layout, which then became a primary focal point as the town grew. There is a surprising variety of such spaces, which are categorized below.
Common/Green
Probably the earliest public space of the earliest British and Dutch settlements, the common (or green) was set aside as a communal open space in the center of or adjacent to a settlement, and also often used as pasturage for the horses and livestock owned by residents of the community. A common/green was typically not part of a pre-planned pattern of streets and blocks, but was rather a tract of land adjacent to a settlement and around which the settlement grew, or was a central space around which the settlement was built piecemeal. It can be either small or large compared with surrounding blocks, and can take on any form, from irregular to defined, and typically having the characteristics of a park. This type of public space is usually found in the northeastern states.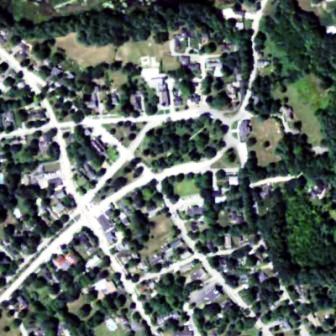 Amherst, New Hampshire, grew around its elliptical village green.

Spanish Plaza
The Spanish typically developed their American colonial settlements focused upon a rectangular open area called a Plaza, with the length typically oriented generally east-west. This space, similar to the Common, was developed for the purpose of community gatherings and events, as well as pasturage for horses and livestock. However, unlike many Commons, the Spanish Plaza is typically fully enclosed along each side with commercial buildings facing the Plaza, forming an outdoor room. The Plaza tends to be a self-contained public space, often with a central fountain and/or gazebo, with streets emanating from the Plaza in a loosely organized web of streets, whereas the common American Town Square tends to be a specific block within a pre-planned grid.
Many subsequent Texas and neighboring-state communities established by American or European settlers also have Spanish-type plazas around which their initial town form developed, owing to the Spanish influence in that region. These plazas often take on the characteristics of an Asymmetrical Town Square.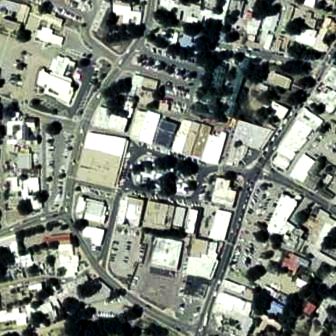 Historic Taos, New Mexico, was built around its Spanish plaza.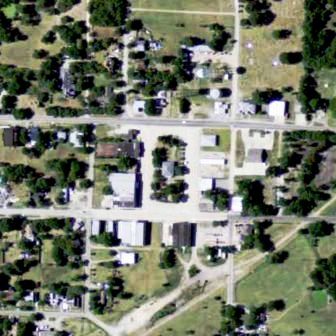 Ladonia, Texas, was laid out around a central plaza.

Town Square
Arguably the most American of public spaces, the town square is a public space of any shape located at the center of a town, and is typically the focus of the town's early commercial development. The square is typically covered with grass and trees, with formal walkways and often a central focus such as a fountain, monument, or gazebo. The town square can also contain a significant public building, such as a court house, city/town/village hall, or state house. The town square can take on a number of characteristics:
Block Town Square:

This is a central block of the initial grid form of a town, and can be square or rectangular in shape with the streets surrounding the square continuing beyond the square. The lots on each side of the square front upon the square.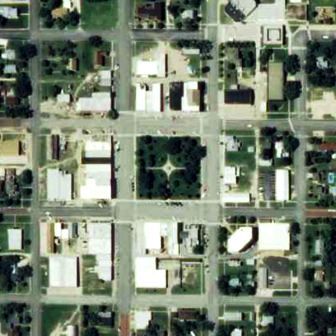 A park-like town square fills the central block of the original townsite in St. John, Kansas. The city's commercial buildings face upon each side of the square.
Asymmetrical Town Square:

This is a Town Square around which are blocks of varying sizes, with some streets ending at the square while others continue beyond the square. This is typically found within a loose grid or non-uniform grid pattern. The lots on each side of the square front upon the square.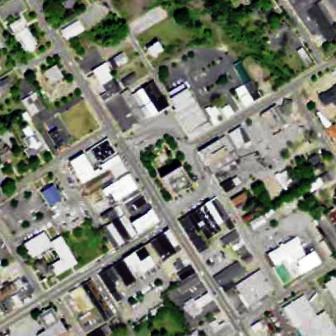 The town square in Darlington, South Carolina, is surrounded by variously sized blocks within a non-uniform street pattern.
Axial Town Square:

This is a Town Square centered upon a street.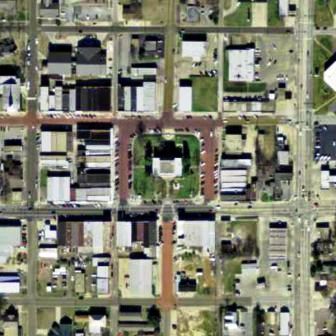 The courthouse square in Gilmer, Texas, is centered upon Henderson Street to the south and Titus Street to the north.

Bi-Axial Town Square:

This is a Town Square centered upon two streets that run at generally right angles to each other.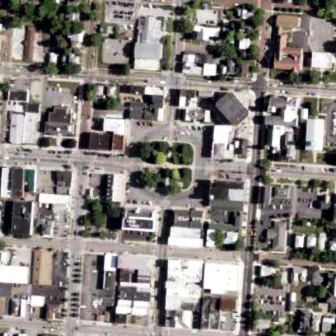 The town square of Mt. Vernon, Ohio, is centered upon both Main Street, running north-south, and High Street, which runs east-west.
Stepped Town Square:

This is a public space consisting of a widened portion of a primary street or a street intersection. If a widened primary street, the length may be one or a few blocks, often with a landscaped median or park area. If an intersection, the shape is typically square or rectangular, with the corners projecting into the adjacent blocks but without separate streets at the perimeter. A monument or monuments might be located in the center portion of these public spaces, often within the automobile traffic flow.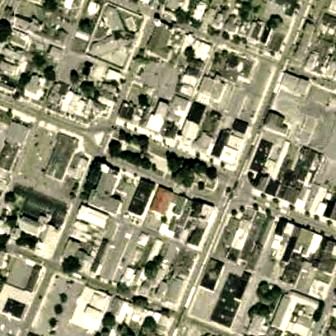 Market Street in Sunbury, Pennsylvania, widens to form the town's beautiful linear town square.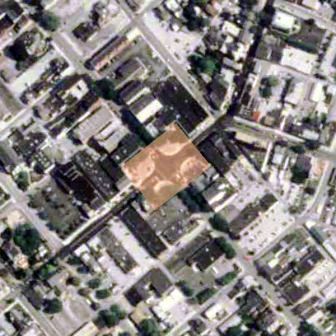 The rectangular town square in Hanover, Pennsylvania, highlighted in orange by me, is essentially a widened intersection of the town's historic primary streets. The four quadrants of the widened intersection contain landscaped parking, pedestrian seating areas, and monuments.

Circular Town Square:

A public space in the shape of a circle, oval, or ellipse, typically at the intersection of crossing streets.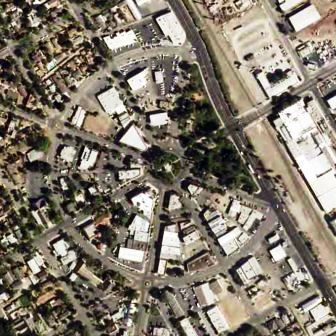 Patterson, California, has a central business district that focuses on a circular town square. Adjacent triangular park blocks widen the overall public space in this interesting central area.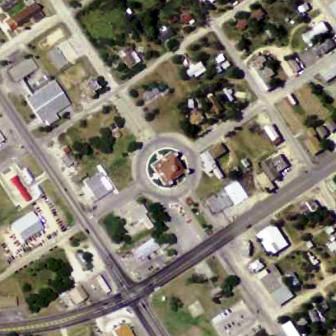 The small community of Jourdanton, Texas, is focused upon a circular courthouse square.
Multi-block Town Square:

A rectangular or square public space that spans more than one block within a grid of streets, typically two blocks centered in a grid, but sometimes four blocks, and usually with the surrounding lots facing onto the group.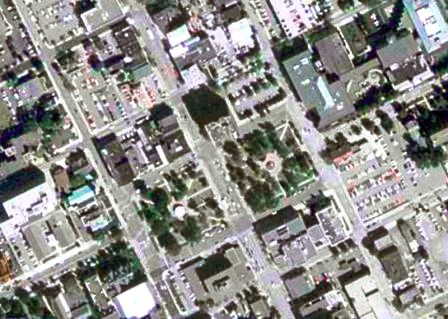 The central town square of Erie, Pennsylvania, encompasses two blocks that span either side of State Street, and that are centered upon 6th Street.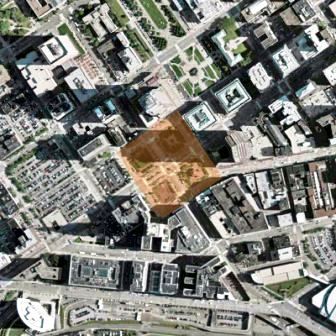 The famous Public Square in Cleveland, Ohio, highlighted in orange by me, consists of four beautifully landscaped blocks centered upon two primary streets. The city's traditional main street, Euclid Avenue, runs eastward from the southeast corner of the square.
Municipal Block
A Municipal Block is a landscaped block on which a significant public building is located. Though it is similar to a Town Square that has a municipal building, the block is usually not the central block of a grid and usually does not have lots facing the block on all sides.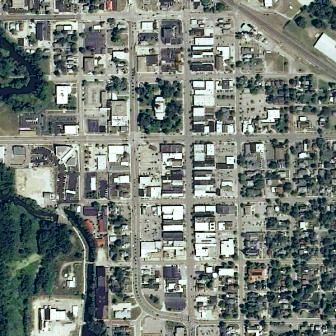 The county courthouse in Goshen, Indiana, sits upon a full block along Main Street at the north end of the commercial district. Note that the buildings to the north and south of this municipal block generally do not face the block as is the case in traditional town squares.
Urban Plaza
An urban plaza is a variation on the town square. The plaza is typically a block or portion of a block, large or small, that contains a significant amount of paving for heavy pedestrian use, with landscaping, fountains, sculpture and seating areas to create additional interest.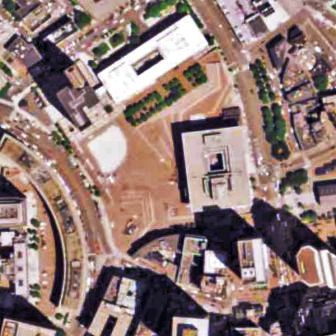 The large expanse of City Hall Plaza in downtown Boston, Massachusetts, was part of a massive mid-century urban renewal project that bulldozed and consolidated numerous blocks within the historic city core. The plaza is paved in the city's famed red brick and is the setting for the City Hall building in the southeast portion of the plaza, and the John F. Kennedy Federal Building along the northern edge of the plaza.

Sequential Blocks
The Sequential Blocks public space consists of a series of typically rectilinear public spaces in a line across several blocks. These blocks often contain public buildings within them, but are typically not the focus of commercial development.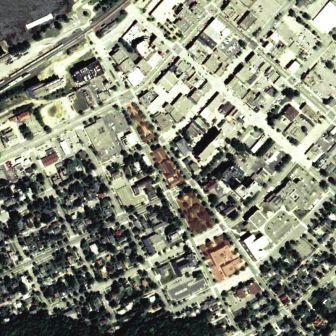 The town of Red Wing, Minnesota, has a sequence of public spaces, highlighted in orange by me, across four blocks where the city's two initial street grids meet. These spaces include two small parks along with public and institutional facilities on landscaped grounds. Downtown is located immediately to the northeast of these blocks, with tree-lined residential streets to the west, south, and east of these sequential blocks.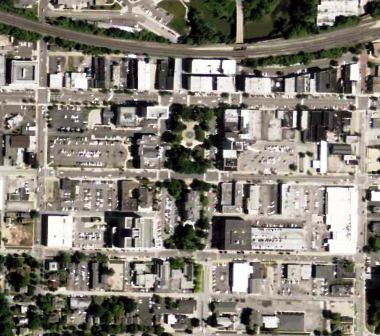 Downtown Elyria, Ohio, is centered upon a sequence of two public blocks that run south from the city's traditional east-west main street. The north block is a landscaped town square, and the south block is a landscaped courthouse square.

Public Mall
The public mall consists of a sequence of open public spaces across several blocks, or a contiguous open public space several blocks in length, with public buildings surrounding and facing the public space(s). Such spaces are often called civic centers.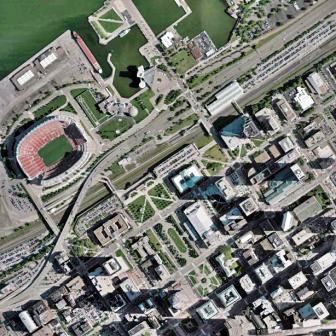 The formal Public Mall in downtown Cleveland, Ohio, runs northwest from the heart of the city center towards the city's lakefront and stadium. The mall was the result of an ambitious plan to remake the central city during the City Beautiful Movement at the beginning of the 20th Century. The mall is lined with formal civic buildings and prominent commercial buildings. The northern two blocks of the mall are currently being re-built.

Formal Park
A formal park is a block-size or larger park space within a town or city, with a typically symmetrical pattern of pathways defining and focusing on lawns, gardens, fountains or monuments, creating a passive park experience.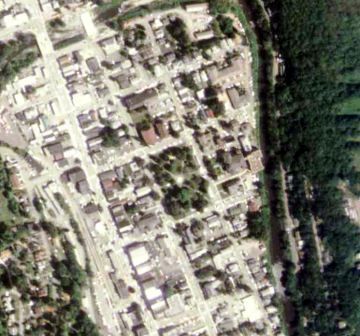 A beautiful formal park in central Honesdale, Pennsylvania, lies east of the city's traditional downtown main street.

Dynamic Urban Park
The dynamic urban park is a contemporary public park that is designed with a large variety of public attractions, including plazas, lawns, fountains, sculpture, ice rinks, performance space, food venues, and other components that create an active public space that can become a significant identity for the city within which it is located.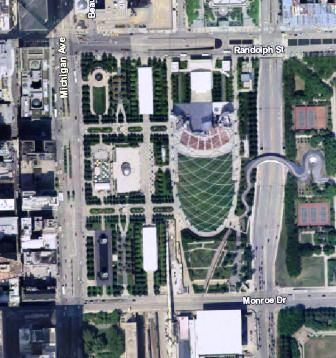 Millennium Park is a dynamic urban park built on top of parking garages and a commuter rail line in downtown Chicago, Illinois. It contains beautiful landscaping, dynamic sculpture, an interactive water feature, two large performance venues, a popular restaurant, a winter-time skating rink, and ever-changing art displays and public events. It has become a major symbol of the city and one of the most popular places for residents and tourists to visit.
(Image from City of Chicago Interactive Zoning Map)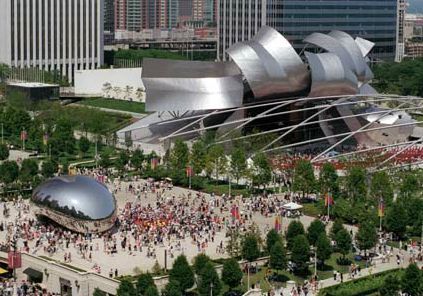 Summertime crowds flock to Millennium Park in Chicago, Illinois. Two of the park's renowned attractions include the reflective Cloud Gate sculpture at the left, and the dynamic Pritzker Pavillion performance venue to the right.
(Image from explorechicago.org)

Public Park
The public park is an area owned by a municipality or other government entity that consists of sizable areas of grass, trees and landscaping, with the purpose to provide open space and places for public leisure, passive and physical activities, and playgrounds for children. If large enough, parks may also contain athletic facilities such as tennis and volleyball courts, baseball and soccer fields, public swimming pools, and sizable public buildings for gatherings, art classes, physical fitness activities, and venues for indoor sports such as basketball and volleyball for public athletic leagues. Parks may also contain ponds, lakes, fountains, sculpture, zoos, and amusements such as carousels, Ferris wheels and other similar rides. Parks are typically located within residential areas, and are sometimes located along waterfronts, streams and rivers.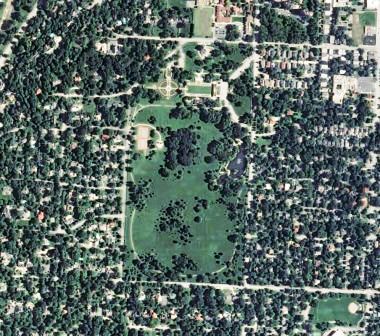 Loose Park in Kansas City, Missouri, is surrounded by tree-covered residential neighborhoods.

Campus
A campus is a sizable parcel of land, typically landscaped and without public through-roads or with limited public through roads, which contains multiple buildings under single ownership and management, similar usage, or of common identity. Historically associated with colleges and universities, campuses are also used for consolidated government centers, civic centers, public schools, hospitals, medical centers, research centers, corporate headquarters, commercial office complexes, as well as public and private housing complexes. Because of their large land areas, campuses are typically built on the edge of or away from built-up areas of towns and cities, and are commonly found in suburban areas. However, many older communities grew around early college campuses, and many newer campuses can be found in urban renewal areas and on super-blocks within cities. Campuses can be public (owned by a government entity and available to the public), but are often private with use limited to those employed at, living in, or visiting the facilities housed within the campus.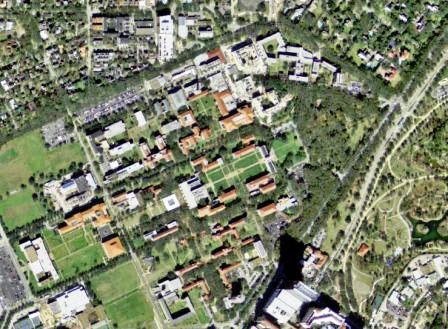 The campus of Rice University in Houston, Texas, has a formal layout on elegantly landscaped grounds.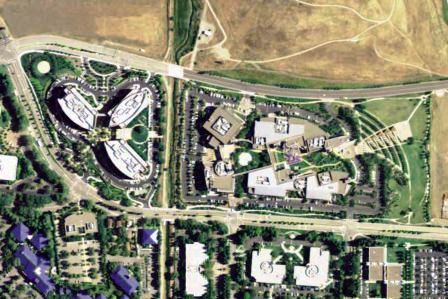 Some of the Silicon Valley office campuses in Mountain View, California